A house flood caused by a leaky toilet or clogged sewer is one of the most
common home disasters. Be top of mind by airing TV commercials that will associate these events with calling you as the solution.
It's the tested and true formula of presenting a problem and a solution. Problem? We're the solution. You may have a marketing problem but these TV commercials, along with a well-planned marketing strategy, are part of your growth solution!
Summary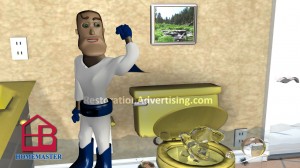 Title
Restoration Advertising - Leaky Toilet Flood Water Damage HD TV Commercial For Sale
Description
A leaky toilet can make quite the mess. Home owners can't anticipate needing to call your company to clean things up! If you own a home restoration or recovery service, you need to stay top-of-mind with memorable TV commercials! Affordable, 15 second TV commercials that will help you stand out from your competition is critical to growing your home restoration services! This includes customizing with your business name, logo, phone number and website.